By Blog Editor, IOE Digital, on 20 January 2021
It must be exhilarating, if challenging, to set out for the first time on a teaching career in Britain's schools. But, from eye-witness reports in recent years, for some new recruits the strains are not long arriving. Now, as a new term gets underway, the chaos surrounding the pandemic can only be adding to the pressures that teachers have laboured under for a long time.
The stats suggest that dissatisfaction is not confined to an unhappy few. In England, among the newly qualified teachers in 2014, some 14 percent had left after a year; after five years, a third had gone. It seems quite a waste. Teacher retention has been declining for some while, and had fallen yet again in 2019 — despite attempts to stem the tide.
What is it about the job of teaching nowadays Read the rest of this entry »
By Blog Editor, IOE Digital, on 12 January 2021
With the country in the third national lookdown, a Covid-19 free future can sometimes be hard to imagine. But the roll out of first vaccines, albeit slow, does fuel hopes that we can put the health crisis behind us before too long. But how swiftly will the economic recovery follow, and what will this mean for our nation's young people?
Our new project examining the Covid-19 pandemic's impacts on youth employment, learning and well-being has received funding from the Economic and Social Research Council (ESRC). We will provide robust evidence on the pandemic's consequences for young people's employment, learning, and well-being.
A swift economic recovery seems essential to keep people in work or help them return to paid employment. Despite the successful furlough scheme which protected workers from the worst, young people have been hit Read the rest of this entry »
By Blog Editor, IOE Digital, on 11 January 2021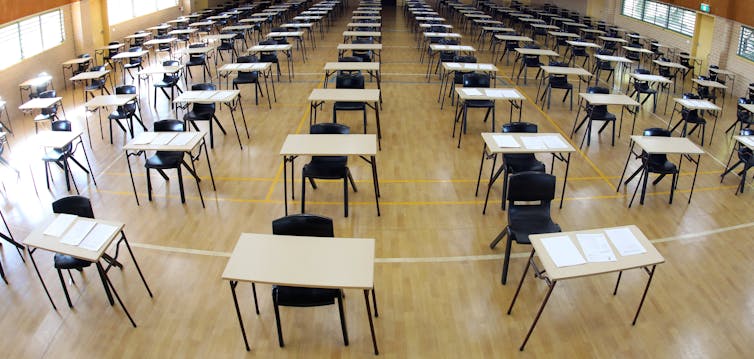 GCSE and A-level exams in England have been cancelled, opening the door to a repeat of the confusion that marked the award of grades in 2020.
The cancellation of exams in March 2020 in England was followed by the realisation that an algorithm created to moderate the data provided by schools had led to significant reduction in final grades for many thousands of students. This debacle led to a crisis in public trust in national testing systems in England.
The students most likely to be disadvantaged by this method of grade awarding were from the poorest backgrounds. Within a few days of the results being announced, the Secretary of State for Education, Gavin Read the rest of this entry »
By Blog Editor, IOE Digital, on 7 January 2021
Melanie Ehren, Martijn Meeter and Anne Fleur Kortekaas.
The term 'Covid generation' has become the new buzz word to refer to children and adolescents under 20 who are affected by school closures and other disruptions.
A report by UNICEF estimates that globally, more than 570 million students – 33 per cent of all enrolled students worldwide –were affected by country-wide school closures in 30 nations as of November 2020. They will have had varying access to remote and online teaching during these closures, and many students from disadvantaged backgrounds will have had little to no learning.
Some believe the lost learning of this generation will have a detrimental effect on the rest of their school and employment careers. This phenomenon is called the 'Matthew effect', after the Evangelist's saying that "For whoever has, to him shall be given […] but whoever has not, from him shall be taken away even that he has": Read the rest of this entry »
By Blog Editor, IOE Digital, on 6 January 2021
From rule-bound games to unstructured exploration, play brings us a lot of satisfaction. Its powers are increasingly recognised in the world of work. But it remains the 'poor relation' in our education system, certainly beyond the early years phase.
To assess whether we've got that right for our older learners, our final 'What If…' debate of 2020 drew on a diverse set of expertise in the form of cognitive scientist Dr Sara Baker (Cambridge University); director of evidence, Tom McBride (Early Intervention Foundation); author Michael Rosen; and former computer science teacher and play-based learning expert, Shahneila Saeed (Ukie). You can read more about our panellists here.
It seems that play is one of those rare examples of something that is both enjoyable and good for us – the equivalent of chocolate flavoured broccoli, Read the rest of this entry »
By Blog Editor, IOE Digital, on 8 January 2021
Jake Anders, Lindsey Macmillan, Gill Wyness, Centre for Education Policy and Equalising Opportunities
This article was originally published by Economics Observatory
To avoid a repeat of last summer's exam chaos, the government must decide quickly on alternative assessment measures. There is a strong case for A-level students to receive in-class testing – with flexible timing and content – to take account of differences in their learning experiences.
While the uncertainties of a global pandemic make this one of the most volatile periods of education policy in history, if there is one lesson we should all have learned since last March, it is that indecision is costly. This has proved true repeatedly for public health and looks just as relevant for education.
As we saw with last summer's exam fiasco, the failure to act decisively led to there being little alternative but to Read the rest of this entry »
By Blog Editor, IOE Digital, on 15 December 2020
The In-Touch team, UCL Knowledge Lab
Music is a part of our everyday lives: many song lyrics both 'touch' us and tell stories of our tactile relationships with one another.
The interdisciplinary InTouch Project at UCL explores the social implications of digital technology for touch communication. As a fun side-project the team has compiled a Touch Playlist – and it seems every music genre loves a bit of touch!
This winter season, lit up by Diwali, Hanukkah, Christmas and Hogmanay, heralds its own set of songs packed with tactile metaphors, invitations to touch, and felt memories. Here, we share a few thoughts on 'touchy' Christmas lyrics. Indeed, in the words of Queen (not The Queen), 'it's been a long hard year' for many of us, in shared and different ways. How might the usual medley of Read the rest of this entry »
By Blog Editor, IOE Digital, on 14 December 2020
Our new report 'Making progress? The employment and retention of BAME teachers in England', is published today. Focusing on the retention of teachers from Black, Asian and minority ethnic (BAME) backgrounds, it questions the idea that the education system in England is 'making progress' in terms of race equality in the case of these teachers.
Currently, 14% of teachers in England are from minority ethnic groups. Our exploratory analysis of the 2018 School Workforce Data found that these teachers are much more likely to work in London. They are also more likely to work in schools with a high BAME presence, both amongst other staff and pupils.
The interviews with teachers who worked in urban, diverse and predominantly disadvantaged schools explored their job satisfaction and retention factors. We found that diversity of the workplace was important for these teachers. However, diversity was not enough to keep them in Read the rest of this entry »
By Blog Editor, IOE Digital, on 11 December 2020
This week, the UK rolled out its largest vaccination campaign in history: "a decisive turning point in the battle against coronavirus" according to the NHS England chief executive Sir Simon Stevens. Some people say it's too soon; others say it hasn't come soon enough. Yet still others are skeptical and have been so for months.
In our UCL-Penn Global COVID Study launched in April 2020, we have been following-up our participants for the second survey where we asked our participants (N = 495):
"Should a COVID-19 vaccine be available to you in the next couple months, how likely are you to take it?"
The majority of the respondents said they were likely/very likely to take the COVID vaccine (63%), about a fifth were unsure (21.8%), and the remainder said they were unlikely/very unlikely (15.2%). These numbers are aligned Read the rest of this entry »
By Blog Editor, IOE Digital, on 8 December 2020
Tina Isaacs, Mary Richardson and  Jennie Golding.
Reports from the latest round of international testing – the Trends in International Mathematics and Science Study (TIMSS), published today, will provide much material for study over the coming months and years. Now in its seventh four-yearly cycle, TIMSS tests 10 and 14-year-olds – in England, pupils in years 5 and 9 – in maths and science knowledge and understanding. It also gathers information on pupils' school and home contexts.
It is this combination of data that could help us understand how to improve teaching and learning for those groups – often disadvantaged – that are doing less well than others.
In 2019, 64 countries and eight benchmarking systems participated, with over 580,000 pupils tested. We co-wrote the report for England (PDF), which was published today.
Overall, England's pupils did pretty well –  eighth out of 58 countries for year 5 maths; 13th out of 39 Read the rest of this entry »