By Blog Editor, IOE Digital, on 23 September 2020
Ann Phoenix, Afiya Amesu, Issy Naylor and Kafi Zafar – a teacher and three students discuss the BLM movement in their second blog.
The scrutiny of racism that Black Lives Matter has produced raises questions of commonalities and differences in experiences of racism across groups. One consequence is that Asian people have found themselves remembering the pain of being subjected to implicit and overt racism. One example is learning that others thought there was something inherently wrong with darker skin through being asked at age five years, "why is your skin black?" before having any concept of race, ethnicity, or skin colour.
Part of the complexity ingrained in everyday racist practices is that it is not simply between those who are white and those who are 'other'. Instead, South Asian children learn early that, not only is there a great deal of racism and casteism towards South Asians, but also within their own South Asian communities. Comments from elders range from complaints of becoming too tanned in the summer, and darker skin ruining marriage prospects for young girls, to offhand remarks about how beautiful a baby is for no other reason than their fair complexion. This is, arguably, as destructive as external racism since it tears South Asians apart from the inside. This colourism is now recognised to be one face of racism that has gained strong footholds because of histories of enslavement and colonialism. It highlights the importance of recognising what Avtar Brah, in the 1990s, called 'differential racisms'.
Increasingly, young British Asians are fighting against these ideologies through not only embracing their own dark skin, but also breaking down the stereotypes and stigma Read the rest of this entry »
By Blog Editor, IOE Digital, on 22 September 2020
Ann Phoenix, Afiya Amesu, Issy Naylor and Kafi Zafar – a teacher and three students discuss the BLM movement in a two-part blog.
The publicity following the death of George Floyd after the white policeman Derek Chauvin knelt on his neck galvanised support for the Black Lives Matter movement. BLM and the attention it has garnered over the last few months has thrown light on the ongoing discrimination and systemic racism that black people continue to face.
Alongside the unprecedented global protests against racism, there seems a new appetite to understand the specificities and ubiquity of anti-black racism and its subtle, every-day materialisations as well as its murderous manifestations. That quest for understanding has seen an extraordinary outpouring of testimonies from black and mixed-parentage people, telling stories of events and day to day experiences that have generally been reserved for insider conversations on microaggressions and discrimination.
It is evident in institutions such as the media and universities that both like to see themselves as progressive but are repeatedly shown to reproduce social inequalities. A crucial Read the rest of this entry »
By Blog Editor, IOE Digital, on 18 September 2020
Emma Wisby and Andrew Brown.
As Covid-19 was reaching its first peak towards the end of March, we were preparing to publish an edited collection in honour of one of the IOE's former Directors, the late Professor Geoff Whitty: Knowledge, Policy and Practice in Education and the Struggle for Social Justice – Essays Inspired by the Work of Geoff Whitty. Our plans to celebrate the book by gathering together friends, colleagues and interested readers remain on hold. In the meantime, here we reflect on the project and how it builds on Geoff's scholarship as one of the foremost sociologists of education of his generation.
Geoff conducted incisive and powerful research studies across the themes of knowledge, policy and practice in education.
He was also a prominent voice in examining the field of education studies itself and its relationship to policy and practice.  The collection takes inspiration from all those Read the rest of this entry »
By Blog Editor, IOE Digital, on 16 September 2020
Chelsea Gray and Kirstine Hansen.
New research shows that the well-publicised case of a student who was attacked in London's Oxford Street in February was not an isolated incident. Our study shows that in the months after Covid-19 first emerged the probability of being a victim of hate crime increased fourfold for Chinese people across the whole of the London Metropolitan area, even after controlling for other factors that might affect hate crimes over that period.
The findings showed that the probability of being a victim of hate crime for a Chinese person in London rose from around 3-4 percent prior to Covid-19, to 10 percent in February 2020 and to around 16 percent in March 2020.
Our research identified no increase in hate crimes after Covid-19 for any other ethnic group nor for other (non-hate) crimes against Chinese people, nor in any other time period we considered. To get our results we used data from the Metropolitan Police for the whole of the Metropolitan area of London.
Covid-19 came as an unexpected shock that dramatically altered the situation for Chinese people living in London. Because Covid-19 is believed to have originated in China, they Read the rest of this entry »
By Blog Editor, IOE Digital, on 15 September 2020
Rebecca O'Connell, and Julia Brannen.
Footballer and food poverty campaigner Marcus Rashford has rebuked Conservative MP Kevin Hollinrake on Twitter for suggesting that parents who need help to feed their children are failing in their responsibilities.
Children growing up in poverty today recognise it is their parents' duty to make sure they are fed adequately. But, like Rashford, whose family struggled with food security when he was a child, they know from experience that parents cannot always fulfil this obligation. In this context, they argue, government and others have a responsibility to act.
Children speak out about hunger
We know this because we have asked children about this exact issue as part of our research into food poverty. In a European study of low-income families, we asked young people between 11 and 16 years old who they consider to be responsible for making sure children have access to enough decent food. Most children argued that parents, government and organisations like schools should work together to achieve this. Phoebe, age 16, whose father had lost his job in the local authority, said:
If a family is unable to provide food then I think it's up to schools and government to kind of make that up, if there is really nothing that they can do. So free school meals and fruit at break I think is really important. I think it's really important that there is enough money for schools to be able to provide free school meals, breakfast club and fruit and stuff like that.
However, attributing responsibility to those in power did not mean children exempted parents from taking responsibility. On the contrary, several young people talked about the Read the rest of this entry »
By Blog Editor, IOE Digital, on 8 September 2020
Alex Elwick, Hans Svennevig and Lee Jerome.
When it comes to understanding and learning about terrorism and extremism, what young people say they want and many of the educational resources they are provided with do not match up.
Our contribution to a recently published book shows that young people generally support the values of democracy and reject the use of political violence, but they want their teachers to help them to develop their critical media and political literacy. Despite what students have told us, we found that leading government endorsed education resources currently fall short of such aims. The Educate Against Hate website has been developed by the Department for Education and the Home Office 'to provide practical advice, support and resources to protect children from extremism and radicalisation.'
Our review of the site suggests that counter-narratives within these resources tend to be simplistic and lack criticality or nuanced engagement with a range of perspectives, e.g. a PowerPoint slide with the guidance "don't be racist". This criticality stood out as one of the key requests of young people in our research – they trusted teachers to tell them the truth and introduce them to Read the rest of this entry »
By Blog Editor, IOE Digital, on 4 September 2020
 Sandra Leaton Gray and Jane Perryman.
When researchers visit schools to ask young people about their experiences of moving up to secondary school, there are a number of repeating themes. They are excited by the idea of new school uniforms, learning new subjects in specialist rooms, using special equipment, meeting new teachers, joining interesting clubs, and making new friends.
However, moving up to secondary school can also cause young people to develop worries. Things like getting lost on a large school site, having lots of homework, being bullied, and not having enough friends will often cause concern. Schools are well aware of this phenomenon, of course, and generally handle young people's anxieties very well, which means that by the end of the first term, the vast majority have settled into their new educational homes and can barely remember what it was like being at primary school. The strategies used by secondary schools to encourage this settling in process include liaising closely with primary staff, welcoming Year 6 pupils in for taster days, and visiting them in their primary schools. It's a robust formula based on research into the relationship between adolescent development, socialisation and school attainment, and it's something UK schools usually do pretty well.
This year it's very different. Many young people have not been in school since March, and others have had little Read the rest of this entry »
By Blog Editor, IOE Digital, on 3 September 2020
Government guidance for schools reopening this month originally suggested that national curriculum subjects could be dropped in order to focus on key areas such as phonics. In the latest welcome U-turn, the guidance now says that "the curriculum remains broad and ambitious". But at the same time it notes that "Substantial modification to the curriculum may be needed at the start of the year, so teaching time should be prioritised to address significant gaps in pupils' knowledge with the aim of returning to the school's normal curriculum content by no later than summer term 2021," and goes on to give details.
The key question is, will the guidance's emphasis on aspects such as "disapplication", "the essentials", and "phonics" lead to some subjects in the curriculum being neglected? The history of governments' national curriculum reform in England suggests this will be the case.
The guidance continues, "For pupils in Reception, teachers should also assess and address gaps in language, early reading and mathematics, particularly ensuring children's acquisition of phonic knowledge and extending their vocabulary. Settings should follow updates to the EYFS [Early Years Foundation Stage] disapplication guidance."
And, "For pupils in key stages 1 and 2, school leaders are expected to prioritise identifying gaps and re-establish good progress in the Read the rest of this entry »
By Blog Editor, IOE Digital, on 18 August 2020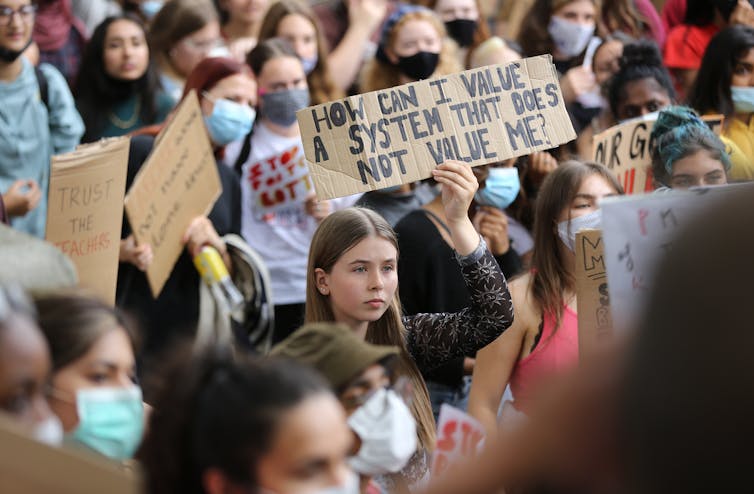 Mary Richardson, UCL, first published on The Conversation
After five days of uncertainty and anxiety, Education Secretary Gavin Williamson announced on August 17 that students in England would be awarded their centre assessment grades (CAGs) this summer – that is, the grade their school or college expected they would most likely have attained had they taken their exams – or their moderated grade, whichever was higher.
The announcement follows widespread outrage after it emerged that the poorest students were hardest hit by the inadequacies of the algorithm used to moderate their grades.
Collective sighs of relief were palpable as teachers no longer faced the stress of an appeals process while also preparing to start one of the most complex and challenging years of their careers. Students, however, Read the rest of this entry »
By Blog Editor, IOE Digital, on 13 August 2020
At 8am on 13 August, some five months after the coronavirus took hold of our lives in England, a generation of young people waited anxiously for the release of their Advanced (A) Level results. News reporting is always very excitable on this day and online news feeds and social media streams are traditionally filled with images of young people jumping for joy. The 2020 results day has been a more visually muted affair, but that isn't solely due to the pandemic. The increase in attainment of A and A* grades almost 28%) has been overshadowed by the fact that, due to the way the data has been modelled, two in every five grades were lower than those predicted by the candidates' teachers and the poorest students are hardest hit.
Earlier this year, I was cautiously optimistic about the enhanced role that teacher judgment would play in this year's awarding cycle and how it could change our view of the professional work of teachers. Concern about the potential bias involved in teacher judgment has dominated much of the assessment discourse this year, but the public were assured that this was only one part of the awarding process to determine results. However, things began to look very diffferent a week ago in Scotland, when it was found that some 120,000 grades had been moderated downwards by the regulator.  A public outcry resulted in a swift u-turn via the First Minister and teacher grades were reinstated.
Education Secretary Gavin Williamson and Schools Minister Nick Gibb were looking anxiously over the border on the afternoon prior to results day in England as they announced their triple lock, or as I like to call it, their "pick 'n' mix" approach to selecting A level results in 2020.
How about a Read the rest of this entry »