Evaluation Exchange: An Alternative way to evaluate
By Lizzy Baddeley, on 12 December 2017
The Evaluation Exchange is a venture between UCL Public Engagement Unit and Aston Mansfield, which sees groups of researchers from UCL working together with a voluntary sector organisation (VSO) in east London to solve an evaluation challenge. Read previous post in this series.
In today's blog we're meeting the team at the Alternatives Trust (Julia, Jenny and Jade) and their research volunteers (Jess, Jeanne, Steph and Laura) who are working together to evaluate the We Are Family project.
---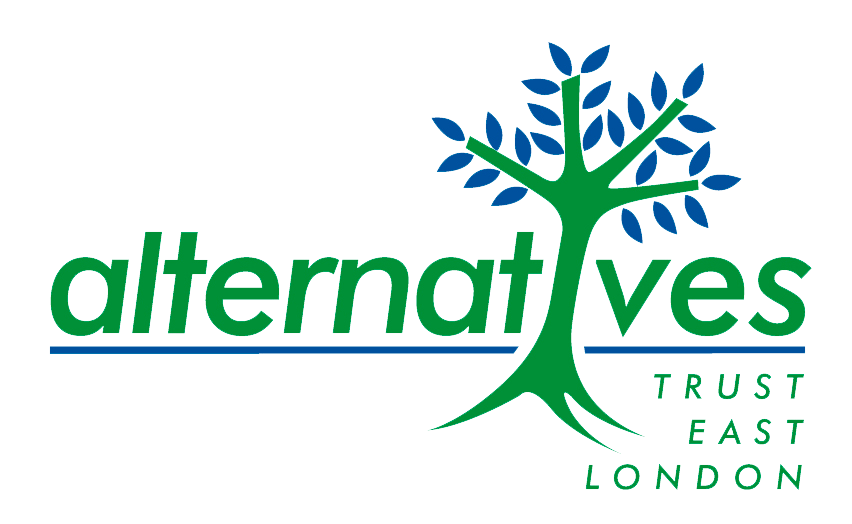 What do Alternatives do?
Julia (Alternatives): The Alternatives Trust opened in 1994 with the aim of offering support to women with their pregnancy choices following pregnancy loss, and provide an advocacy service for families. We believe that anyone can be a good parent given the right support, and aim to provide holistic, practical, relational and educational support to mums in distress. The women who seek our help are some of the most vulnerable in Newham and often/sometimes live in the UK with no permanent home, money or legal status and/or after suffering various kinds of abuse; some simply have no family support around them.
What is the We Are Family project?
Jenny (Alternatives): The We Are Family project is a community support group for parents to bring their children, where they can have fun in a relaxed environment, spend some time talking with other parents, learn new parenting skills and gain confidence. Refreshments and a crèche are provided, and there are group outings in the summer. We also provide support outside of the group hours as individual needs arise.
Why did you get involved with the evaluation exchange project?
Jade (Alternatives): We got involved in the project because we wanted some help in updating our evaluation framework. Over the past 15 years that the We Are Family project has been running we've secured funding from lots of different organisations. Putting together these applications is really time-consuming because all our funders want us to report back on different performance indicators. We wanted some help in creating a comprehensive evaluation framework which captured a wide range of indicators, so that we can accommodate all of our funders requests without spending more time in the office than running the projects.
Laura (Researcher): I wanted to learn more about VSOs working with women, how they offer help, what their practical limitations are and how their work interacts with local and/or national government etc. Personally I had a lot of acquaintance with theoretical notions relating to feminism and female empowerment, but wanted to gain experience and knowledge on how women's issues are actually provided for at the local and practical level.
Jess (Researcher): I got involved because it sounded like an interesting opportunity to do something different, I wanted to see if I had any useful skills that could be applied outside of a lab, and it was the chance to do something potentially useful for a really great cause.
Steph (Researcher): I got involved in the project because I wanted to apply my research skills within a social context. I wanted to engage with a community project in a way that might be useful, but not totally divorced from my own research which focuses on community projects from the 1970s. Like Laura, I really wanted to learn more about how VSOs work, particularly those that work with vulnerable people.
What are your experiences of the project so far?
Julia (Alternatives): The Evaluation Exchange training sessions have been fun and really imaginatively run; helping us start a process of sharing and learning together with our researchers and other voluntary sector organisations.
It's been great to share Alternatives' vision with the researchers and see them grow in awareness of what we do. I have been impressed with the enthusiasm and thoughtful application of our research team; having them come to our project once a month then meeting at length afterwards has proved fruitful and enabled good ideas to grow.
I have also been to see another VSO in action (at the Evaluation Exchange training sessions); I hope we will be able to meet up regularly to support and encourage each other's projects.
Jeanne (Researcher): It's been great to meet the team at Alternatives and meet other researchers at UCL working in completely different fields. There aren't many opportunities for cross-disciplinary collaborations like this when you're in a junior research position. I'm not sure how the Evaluation Exchange project choose its partners or researchers, but it's worked. Everyone I've met has been fantastic.
Laura (Researcher): It's been really great. I've achieved all the things that motivated me to sign up for the project. I've learnt so much about how Alternatives functions and how to think about improving the evaluation of their inspiring work.
Steph (Researcher): Working with Alternatives has been extremely interesting. What I've found most eye-opening are the difficulties faced by the charity when it comes to logistics of monitoring and evaluation when working with vulnerable people. I have really enjoyed meeting the team and visiting We Are Family, where we saw all their wonderful work in action.
Would you recommend taking part in the Evaluation Exchange programme?
Jenny (Alternatives): Without a doubt! It's really helped us find a way to measure things that we previously couldn't figure out. The research team quickly grasped what we do and the challenges we face in evaluating our outcomes and provided suggestions and changes that we are planning to implement after Christmas.
Jess (Researcher): Absolutely. It's been a good learning experience and is completely removed from the sort of research I am used to doing.
Jeanne (Researcher): Yes definitely, I've met some lovely people and gained some skills in evaluating projects. Sometimes working in academia you can feel a bit disconnected from the real world, so it's great to be able to get involved in a project where you can put your skills to practical use.
The Evaluation Exchange is an ongoing project. All the placement teams will be coming together in mid-January for the third and final evaluation exchange training session, to share what they been working on and to get ideas from each other. We are three months in to the programme now; watch this space for further updates!
Leave a Reply