By iomh, on 24 May 2023
A project to bring South Asian music and dance to people with dementia will be showcased next month at Bloomsbury Theatre. Dr Naaheed Mukadam, the researcher behind the project, shares her experiences of this project.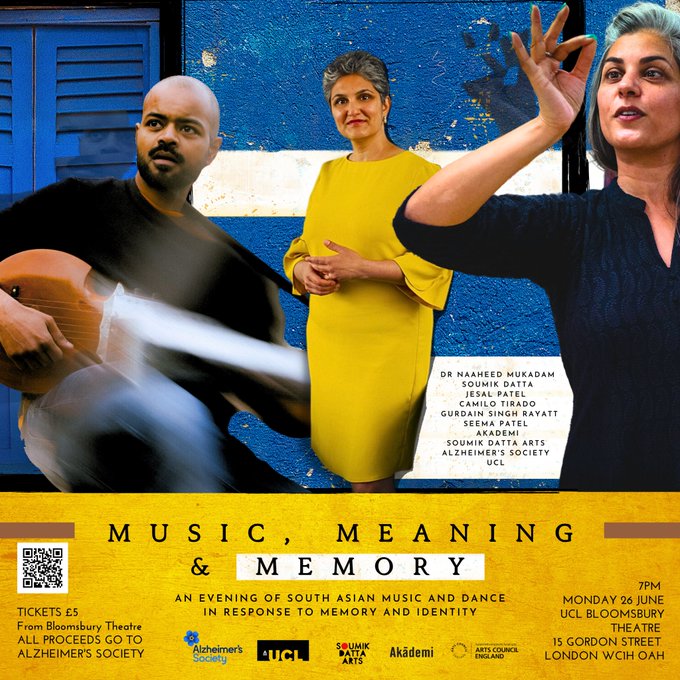 I have been a dementia researcher for more than 15 years and have always focused on ethnic inequalities, initially in the diagnostic pathway and more recently in genetic risk, prevention and post diagnostic support.
My research has highlighted the stigma that can exist around memory loss and dementia and I have tried to counteract this during my career so far. I am used to the scientific method – hypothesis testing and use of both qualitative and quantitative methods to answer specific questions. However, after attending public engagement workshops at UCL and reflecting on the power of personal stories in connecting with others, I started to think about how else I could go about capturing the experiences of those with dementia and those who care for them. Music was one way of connecting that I thought would be quite universal.
Read the rest of this entry »
By Rosie Niven, on 19 May 2023
Mental Health Awareness Week is taking place this week, giving us a chance to shine a spotlight on the role that research plays in transforming the lives of people affected by mental health conditions.
This year, the theme is anxiety and the work of IoMH affiliates including Professor Oliver Robinson and his work at the Anxiety Lab, has been highlighted. Meanwhile, Dr Gemma Lewis, who specialises in preventing and treating anxiety depression, is interviewed about her work, which is also featured in a BBC Radio 4 documentary this week.
The IoMH facilitates multidisciplinary thinking and collaboration, engaging research staff from across UCL. Some of this collaborative work is being highlighted this week, including the that of Dr Rochelle Burgess who leads research projects linked to mental health in contexts of adversity, often with a focus on global health.
And the work of researchers specialising in mental health from childhood to old age is also highlighted, with profiles of Professor Essi Viding, a specialist in the mental health of child and young people, Professor Gill Livingston, a professor in psychiatry of older people and Professor Roz Shafran who focuses on the translation of research into clinical practice at the UCL Great Ormond Street Institute of Child Health.
Finally, at the cutting edge of research, we have data science approaches to mental health, which examine years of health data sets, helping us understand the social, economic and health outcomes across generations. Dr Joseph Hayes discusses how these broad longitudinal approaches, rather than looking at clinical data in isolation, can help us to better understand mental health conditions.
You can find all the mental health awareness week content for 2023 on a special area of the UCL website: https://www.ucl.ac.uk/mental-health/mental-health-awareness-week
Find out more about the people behind the research in the IoMH Researchers' Directory: https://www.ucl.ac.uk/mental-health/people/mental-health-researchers-directory
Find out more about IoMH affiliation opportunities here: https://www.ucl.ac.uk/mental-health/about/affiliation
By iomh, on 10 March 2023
In our final blog marking University Mental Health Day, Lucy Foulkes looks at the concept of awareness days or weeks and asks whether we are doing enough to measure their outcomes.
Yesterday was University Mental Health Day: a day designed to draw attention to student mental health and make it a university-wide priority. It's a distinct day because of its student focus, but there are many such campaigns trying to put mental health on the map. In February it was Children's Mental Health Week, followed by Eating Disorders Awareness Week. In May, it's the more generalised Mental Health Awareness Week; in July, National Schizophrenia Day; and in October we go global, with World Mental Health Day. Every day, it seems, is mental health awareness day.
Read the rest of this entry »
By iomh, on 9 March 2023
UCL is one of the first five universities to receive the University Mental Health Charter Award following an application involving academics, professional services staff and students. In this post, representatives from across UCL describe the process and the importance of the award.
Read the rest of this entry »
By iomh, on 8 March 2023
The discoveries and positive impacts of academic research can give researchers great job satisfaction but the role also brings stresses that pose a risk to their mental health. University mental health day is a chance for researchers to reflect on these, write Helen Nicholls, Jo Billings and Danielle Lamb.
Mental wellbeing at work has been relatively neglected until very recently, despite working age adults spending on average 35% of their waking hours at work and 90,000 hours at work over a lifetime. We know that good work can be good for mental health, but that poor working environments – including discrimination and inequality, excessive workloads, lack of resources, limited job control and job insecurity – can pose a risk to mental health.
Read the rest of this entry »
By iomh, on 6 March 2023
After living through an extended period of turbulence, how are our children and young people coping? Charlotte Burdge and Tamsin Ford highlight what the research reveals and how we can better support our young people.
The mental health of children and young people deteriorated over the last decade, particularly among young women in their mid-teens and early twenties, who were more likely to struggle with anxiety, depression and self-harm than previously. This may come as no surprise, considering today's children and young people have lived through what could be called a permacrisis; or an extended period of uncertainty and instability resulting from a chain of catastrophic events. Those born since the Millennium have experienced – directly or indirectly – severe financial crises, COVID-19, war, and increased global insecurity. Many young people have also voiced concerns about their own prospects for longer-term issues such as climate change, political instability, and the cost-of-living crisis.
Read the rest of this entry »
By iomh, on 15 February 2023
A PhD scholarship may last just a few years but today's scholar could become tomorrow's supervisor as Dr Jen Dykxhoorn from the UCL Division of Psychiatry explains.
Last month, Professor James Kirkbride and I were awarded a prestigious Mental Health Research UK (MHRUK) scholarship to recruit a PhD student to explore the causes of health and social inequalities in psychiatric disorders.
This research will focus on understanding the causal links between severe mental illnesses such as schizophrenia, bipolar disorder, and major depressive disorders in socially excluded and historically marginalised groups.
This research will use novel causal inference methods to better understand what social factors increase the risk of severe mental illnesses in different population groups. Understanding the causes of mental illnesses is required to inform prevention efforts to reduce the rates of severe mental illnesses in society.
Read the rest of this entry »
By iomh, on 26 October 2022
This blog was written by Freya Robb, Senior Press Officer for Science Media Centre
The third Institute of Mental Health International Conference took place on the 21st September 2022. This was the first time the conference had been held in person and was a sell-out event.
Led by its Director, Professor Anthony David, the UCL Institute of Mental Health was created to bring together the best interdisciplinary research to help tackle mental illness. This year's conference aimed to reflect this broad and diverse approach, covering some key topics of interest that are at the forefront of public discussion and interest.
Read the rest of this entry »
By iomh, on 10 October 2022
This blog was written by Dr Andrew Sommerlad, co-lead of the SIG in Social Cognition and Behaviour, for World Mental Health Day 2022. 
Having effective social cognition and social behaviour is central to people being able to integrate with others and form meaningful and supportive social groups. It is therefore essential for maintaining personal happiness and achievement and for wider societal cohesion. However, social cognition and behaviour is affected by many disease states, including neuro-developmental, affective and neurodegenerative disorders, leading to damaging effects on quality of life. Understanding what determines successful social cognition and behaviour and what leads to it becoming impaired has a range of potentially important impacts, from guiding development of new treatments and social policy, to fostering a deepened understanding of human nature.
Social cognition and behaviour is a research focus for UCL academics spanning numerous faculties and departments, and its treatment is a priority for many clinicians in our associated NHS trusts. The scope of this research is wide and varied, encompassing different populations and disease areas, and using a broad range of theoretical and methodological approaches. This means that there is a lot to be learnt from each other.
We therefore established the UCL Institute of Mental Health Special Interest Group (SIG) in Social Cognition and Behaviour to bring together researchers and clinicians who are interested in understanding social cognition and behaviour. We want the SIG to strengthen capacity and collaboration across UCL in research into this area, by providing a forum for academics and clinicians to share their disciplinary perspectives and expertise. We wish to promote discussion and exchange of ideas to encourage interdisciplinary thinking and foster productive relationships in social cognition and behaviour research.
Our SIG currently comprises over 50 members and we have begun to support our aims through our inaugural meeting in September 2022, which we held face to face at UCL to facilitate networking. The meeting showcased the depth and breadth of social cognition and behaviour research at UCL through, first, keynote presentations on the importance of social touch in regulating social and affective needs, and on the social behavioural experience of people with autism during the COVID-19 pandemic, and then flash presentations from 15 academics across UCL. Our MS Teams channel is a forum open to all SIG members to enable us to share resources, and information about funding and conferences, and supervisory opportunities. We will continue working towards our aims through future seminars and other activities.
We want to build this network, so if you are interested in joining our special interest group, please contact us via dop.socialsig@ucl.ac.uk, and join our Teams team. We will keep you updated about all future SIG activities, and we would welcome any suggestions about what the SIG can do to help your social cognition and behaviour research.
By iomh, on 12 September 2022
This blog was written by UCL PhD Student and Social Cognition and Behaviour SIG member, Sara De Felice.
On Wednesday 7th Sept, the Social Cognition and Behaviour Special Interest Group (SIG) hosted its first meeting at UCL.  The SCB is a group of researchers within the Institute of Mental Health from many disciplines who share an interest in improving understanding of the nature and consequences of social cognition and social behaviour in health and disease.  Group meetings aim to strengthen research capacity and enable networking in this area across UCL.
The first SIG meeting was forum for UCL academics, young researchers and clinicians to meet and discuss research. Over 50 attendees were welcomed by Prof Antonia Hamilton and Dr Andrew Sommerlad, who chaired the event. They both outlined the scope of the SIG and how it fits within the Institute of Mental Health, including driving the attention to supports available in the forms of small grants (here and here). After that, they gave space to the two keynote speakers, Prof Katerina Fotopoulou and Prof Elizabeth Pellicano.
The first talk was given by Prof Katerina Fotopoulou, who stressed the importance social touch in understanding ourselves as humans, our healthy development and formation of cognitive structures as well as the ability to regulate our social and affective needs. She also presented the case of anosognosia and other clinical groups as a window to study social (embodied) cognition and its mechanisms more generally. Her talk highlighted that our body – as a tool to interact with the environment and others – has a key role in shaping our social cognition and the sense of self more generally. Prof Fotopoulou did so by presenting decades of works by her and others, ending with recent data collected during the unique circumstances of the Covid-19 pandemic, characterised by highly virtual connection with concurrent lack of physical connection.
The second keynote speaker Prof Elizabeth Pellicano shared with the group an original insight into how people with Autistic Spectrum Condition (ASC), both adults and young people, experienced the social isolation during the Covid-19 pandemic. Far from the stereotypical and over simplistic – yet widespread – belief that ASC is characterised by asocial behaviour and even a sense of enjoyment from being isolated, Prof Pellicano showed how people with ASC experienced the prolonged isolation imposed by the Australian government as a very challenging time. In particular, she presented a series of informative extracts from adults and adolescents who shared their struggles as they were forced to isolate for months, without meeting friends and family, and away from even the most accidental encounters in their daily life. Her work highlighted the importance of social contact as part of a healthy life, across age groups and neuro-diverse cohorts.
Following the two keynote speakers' talks, academics, young researchers and clinicians introduced themselves to the SIG in a series of 'flash' talks, where each presenter outlined their research expertise, area of interests and potential routes for collaborations in 2 minutes. During this section the diversity and multidisciplinary approaches to social cognition research at UCL clearly emerged. In particular, Peter Hsu is working on the impact of body-specific social rejection on body-related risk aversion; Dr Marco Wittman is working on maintaining individuality while being part of social groups in neurotypical and autistic cohorts; Max Maier is interested in social and cognitive psychology with focus on topics related to effective altruism and is working on publication bias in research on construal level theory; Dr Giedrė Čepukaitytė is working on the EDoN platform to identify social behaviour markers of early neurodegenerative disease; Dr Lucy Chisman-Russell studies social cognition dysfunction in frontotemporal dementia; Aygun Badalova is developing Gotcha!, a proper-name anomia therapy app for people with dementia; Prof Gabriella Vigliocco is leading research on dyadic interactions and multimodal (verbal and non-verbal) communication in adults and children; Dr Daniel Richardson is leading a series of experiments to study how others influence and shape our behaviours; Nadescha Trudel is working on decision making and how it differs in social and non-social contexts; Benedict Greenwood (working with Prof Sarah Garfinkel) is mapping autonomic signals and their contribution to emotional and cognitive features of ADHD; Sara De Felice is working on neuroimaging of dyadic social interactions and learning; Dr Andrew Sommerlad is working on social functioning in dementia; and Prof Antonia Hamilton is leading work to understand the cognitive mechanisms of naturalistic social interactions.
The 'flash' talks were followed by a discussion that engaged the whole audience on the themes that emerged during the presentations, as well as raising some relevant questions such as how the SIG could best support their members, including ways to strengthen clinical and academic collaborations within the community. Feedback suggested the need to produce an 'academic database' of experts in different areas within the field of social cognition, providing an easy-to-consult source for potential collaborations in different projects. Also, the idea of a Teams Channel was welcomed with enthusiasm, including the suggestion of a shared calendar for relevant conference events as well as grant key dates for the SIG members to consult as needed.
To find out more about this group and future meeting dates, or if you want to get involved or simply contact us about an idea for this SIG, please visit our page.