By iomh, on 10 October 2023
From making discoveries that change the world, to supporting students as they navigate university life, academic roles can be rewarding, but also emotionally draining. UCL's Head of Workplace Wellbeing, Sally Belcher outlines how dedicated workplace health teams and researchers have come together to support the mental health of members of staff.
World Mental Health Day is recognised annually on 10 October. It is a day that encourages everyone to reflect on their own mental health, and that of those around them. This year's theme of 'Mental health is a universal human right' means ensuring mental health is treated equitably and with the same respect and dignity as that of a physical injury. Working in Workplace Health, especially around the time of World Mental Health Day is an opportunity to improve knowledge and raise awareness of staff but it also serves as a stark reminder on how far we as a society have to go.
The 'Supporting Staff Wellbeing in Higher Education' (2021) paper, reported that, 'the overall level of emotional exhaustion was high. More than six respondents out of ten (65.3%) reported feeling emotionally drained from their work at least 'once a week. with academic staff also perceiving 'a poorer psychosocial safety climate in their institution and a higher degree of stigmatisation surrounding mental health issues.'
These findings highlight that staff within higher education are suffering while at work. However mental health of staff in higher education is multi-faceted. Staff in student facing roles often feel ill equipped to support students with their own mental health and lack the boundaries needed to protect their own wellbeing.
Professor Jo Billings, Division of Psychiatry, UCL remarks: 'Working in academia can be incredibly rewarding, but is not without significant stressors, including high workloads, competitive fundings processes and job insecurity (Nicholls et al., 2022). The recently established Mental Health at Work SIG was formed to bring together researchers on workplace mental health and those with an interest in the mental health and wellbeing of researchers in academia.
At the inaugural conference in May 2023, the SIG explored some of the most recent research on the mental health of staff in higher education, including how the topics of our own research in mental health can often be sensitive, challenging and difficult. The Mental Health at Work SIG will reconvene again in 2024 and hopes to increase awareness of mental health at work in academia and promote more research on the impact of our work on ourselves.
The work of this Mental Health at Work Special Interest Group led by UCL's Professor Jo Billings and Dr Danielle Lamb provides an ideal forum for colleagues to discuss policy, practice and research
A significant step forward in the mental health of the entire Higher Education sector is the University Mental Health Charter, led by Student Minds. This provides the framework designed by thousands of staff and students that serves to shape a future in which mental health and wellbeing are a fundamental aspect embedded into culture within universities.
UCL was one of the first five institutions to be awarded the Charter. The recommendations provide valuable insights for UCL's leaders to continue to embed a whole university approach to align with UCL's strategic plans.
Prof Anna Cox and Prof Jo Billings have recently been appointed co-chairs of the Staff Mental Health and Wellbeing Expert Working Group. This group will have multi-disciplinary expertise tasked with responding to the recommendations from the University Mental Health Charter Oversight Committee. They will inform UCL Workplace Health's strategic and holistic approach to staff mental health and wellbeing procedures, policies and practices.
As in all workplaces, there is still a significant amount of progress to be made in the area of staff mental health but with a growing community of peer support, more than 180 Wellbeing Champions and 400 Mental Health First Aiders, an ambitious Research Culture roadmap that prioritises the mental health and wellbeing of researchers at UCL, the academic expertise and funded mental health training programmes agreed for all staff groups, the commitment is very much there
Sally Belcher is Head of Workplace Wellbeing, University College London
The Mental Health at Work Special Interest Group is hosted by the UCL Institute of Mental Health and intended to bring together a network of researchers and academics from across UCL who are interested in mental health and wellbeing in the workplace.
By iomh, on 10 October 2023
People with serious and persistent mental illness (SPMI) often have poor experiences of health care, including end-of -life care, yet their voices often go unheard, leading to decisions being made on their behalf. Nivedita Ashok describes research from UCL's Marie Curie Palliative Care Department, which shows that people with SPMI want to make their own choice, just like anyone else.
People with a diagnosis of intellectual disability or a serious mental illness die much earlier from serious physical illnesses than the general population. Lack of support to have healthier lifestyles, only seeking help when very unwell, late presentation to services, delays in diagnosis, and insufficient treatment provision are all problems.
Despite this gap, they are often excluded from palliative care research, and their experience of healthcare services are often poor, e.g. failure to make reasonable adjustments.
Our research team has been studying these issues to identify the gaps and uncertainties in the evidence. The findings have helped us understand what service users, their families, and the professionals who work with them find challenging, and what they suggest can help improve this.
Read the rest of this entry »
By iomh, on 9 October 2023
Dementia and end of life care is a challenging topic to engage young adults with but the EMBED-Care team took the opportunity to do this by putting together an event for Science Museum Lates to engage young adults with these themes. Sophie Crawley describes their experiences.
The Science Museum in London is a well-known destination for families and children to spend a day looking at all things science related. A lesser-known aspect of the museum's work are Science Museum Lates. These are primarily targeted as a young adult social event for groups of friends to attend. There is a lively and engaging atmosphere with music, DJs and a bar, while they explore the Museum's regular exhibits after hours and engage with events and activities run by external groups centred around a specific science-related theme.
A conversation with the Science Museum about our work to improve the end-of-life care of people dying with or dying from dementia led to an offer to participate in a Lates event celebrating the 75th Anniversary of the NHS. This was a great opportunity to share our research with a young adult audience who may not have thought about dementia or the end of life, but who will be increasingly affected by dementia as the prevalence, and the need to care for those with a diagnosis, increases. It also gave all the EMBED-Care team from UCL and King's College London an opportunity to collectively 'have a go' at public engagement.
Read the rest of this entry »
By iomh, on 29 September 2023
The fourth UCL Institute of Mental Health Conference explored a diverse range of topics including health economics, suicide prevention and cognitive neuroscience. UCL Wellcome PhD student Jennifer Fielder shares some of her highlights of the day.
As a PhD student in Mental Health Science, I was excited to hear some of the latest mental health research showcased by leading experts at the Institute of Mental Health (IoMH) Conference.
The first session on mind and body interactions followed warm welcomes from Professor Anthony David, director of UCL IoMH, and Professor Alan Thompson, Dean of the UCL Faculty of Brain Sciences. UCL's Professor Sarah Garfinkel focused on how our ability to sense internal contexts and signals, known as interoception, shapes mental health. This covered her work on interoceptive training, where people learn to detect their heartbeats more accurately, which decreased anxiety in autistic adults for up to one year after the training. The talk finished with the exciting prospect that effective psychiatric treatments may work via interoceptive pathways. For example, one dose of the antidepressant Citalopram was found to increase interoceptive accuracy.
Read the rest of this entry »
By iomh, on 19 July 2023
UCL Psychiatry MSc student Kangning Zheng's research focuses on the experiences of loneliness among international students. This blog describes what her work reveals about the impact on students' mental health.
Studying in another country might be an exciting prospect for many people but some international students can feel lonely during a period of study abroad. Transient loneliness at the start of a move to a new country is common and can be a positive stimulus to meet more people and establish oneself. However, some people can become chronically lonely, and this poses a threat to health and wellbeing. Loneliness is therefore an important consideration for policymakers in relation to the economic and social benefits of international students.
Read the rest of this entry »
By iomh, on 5 July 2023
Earlier this year in a BBC Radio 4 programme Tania Gergel documented her treatment for bipolar. In this blog, she describes how she has used 'self-binding directives' to manage the risks associated with these treatments.
Shortly after I moved into the field of mental health ethics and law about twelve years ago, I found my work focusing on one particular area – mental health advance directives or 'advance choice documents', as they will soon be known within the upcoming revisions to the Mental Health Act in England and Wales.
Research and practice in this area had been dominated by the idea that advance choice documents could provide a way for people with severe mental illness to avoid hospitalisation and involuntary treatment. But it soon became evident that, in fact, many people might also want to harness the power of advance decision-making to do the opposite – to ensure that they received treatment, even if against their will, during future episodes of illness when they knew from past experience, they would resist.
Read the rest of this entry »
By iomh, on 21 June 2023
Entries are invited for the 2023 Michael King Prize, which is awarded to the UCL PhD awardee with the best thesis on a subject relating to mental health. In this blog, last year's winner Aaron Kandola, shares his experiences of the award and reveals what he's been doing since then.
Last year I was awarded the Michael King Prize for my PhD thesis on the relationship between physical activity, fitness, and sedentary behaviour with depression and anxiety symptoms in the population.
Read the rest of this entry »
By iomh, on 9 June 2023
Recent UCL research finds that lesbian, gay, and bisexual adults report higher rates of suicidal thoughts and suicide attempts than their heterosexual peers. In this blog Garrett Kidd describes how the study came about and its significance.
In the 2021 census lesbian, gay and bisexual (LGB) people represented 3.2% of the English and Welsh populations.
However, the UK is a heteronormative society where LGB people have experienced systemic and historical persecution under British law; homosexuality was partially decriminalised only in 2017. Legal recognition and protections have advanced since then, but a legacy of discrimination and lack of legal protection has impacted the lives of generations of LGB individuals. Minority stress theory suggests that experiences such as discrimination or bullying might account for the poorer mental health of LGB people, as suggested in our previous work at UCL.
Read the rest of this entry »
By iomh, on 24 May 2023
A project to bring South Asian music and dance to people with dementia will be showcased next month at Bloomsbury Theatre. Dr Naaheed Mukadam, the researcher behind the project, shares her experiences of this project.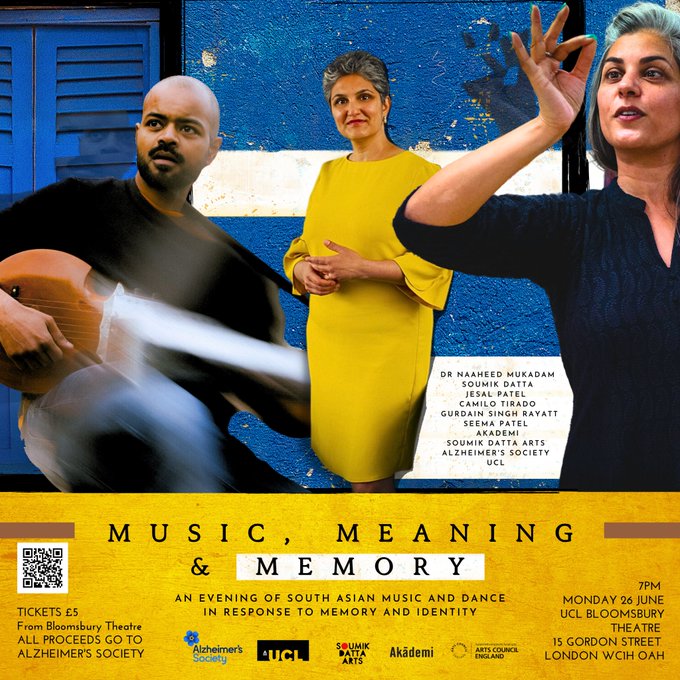 I have been a dementia researcher for more than 15 years and have always focused on ethnic inequalities, initially in the diagnostic pathway and more recently in genetic risk, prevention and post diagnostic support.
My research has highlighted the stigma that can exist around memory loss and dementia and I have tried to counteract this during my career so far. I am used to the scientific method – hypothesis testing and use of both qualitative and quantitative methods to answer specific questions. However, after attending public engagement workshops at UCL and reflecting on the power of personal stories in connecting with others, I started to think about how else I could go about capturing the experiences of those with dementia and those who care for them. Music was one way of connecting that I thought would be quite universal.
Read the rest of this entry »
By Rosie Niven, on 19 May 2023
Mental Health Awareness Week is taking place this week, giving us a chance to shine a spotlight on the role that research plays in transforming the lives of people affected by mental health conditions.
This year, the theme is anxiety and the work of IoMH affiliates including Professor Oliver Robinson and his work at the Anxiety Lab, has been highlighted. Meanwhile, Dr Gemma Lewis, who specialises in preventing and treating anxiety depression, is interviewed about her work, which is also featured in a BBC Radio 4 documentary this week.
The IoMH facilitates multidisciplinary thinking and collaboration, engaging research staff from across UCL. Some of this collaborative work is being highlighted this week, including the that of Dr Rochelle Burgess who leads research projects linked to mental health in contexts of adversity, often with a focus on global health.
And the work of researchers specialising in mental health from childhood to old age is also highlighted, with profiles of Professor Essi Viding, a specialist in the mental health of child and young people, Professor Gill Livingston, a professor in psychiatry of older people and Professor Roz Shafran who focuses on the translation of research into clinical practice at the UCL Great Ormond Street Institute of Child Health.
Finally, at the cutting edge of research, we have data science approaches to mental health, which examine years of health data sets, helping us understand the social, economic and health outcomes across generations. Dr Joseph Hayes discusses how these broad longitudinal approaches, rather than looking at clinical data in isolation, can help us to better understand mental health conditions.
You can find all the mental health awareness week content for 2023 on a special area of the UCL website: https://www.ucl.ac.uk/mental-health/mental-health-awareness-week
Find out more about the people behind the research in the IoMH Researchers' Directory: https://www.ucl.ac.uk/mental-health/people/mental-health-researchers-directory
Find out more about IoMH affiliation opportunities here: https://www.ucl.ac.uk/mental-health/about/affiliation